Gresham Blake x Peaky Blinders Special Guests
To bring to life the exclusive collection of hand-crafted accessories and bespoke pieces, Gresham Blake has worked with some well-known fans of the show, each bonded by a deep, long-standing passion for the iconic series.

For updates and giveaways follow @greshamblake and @PeakyBlindersOfficial
Sign up to our exclusive Peaky Blinders mailing list for more news.
Winston
Award winning actor known for films such as "Sexy Beast" & Marvels "Black Widow".
"Peaky what a blinder, showcasing lots of new talent. The styling is as sharp as razor, just like Gresham Blake".
Ray is wearing 14 oz Grey worsted Peaky Blinders hat available now, the matching 3-piece suit will be available next year.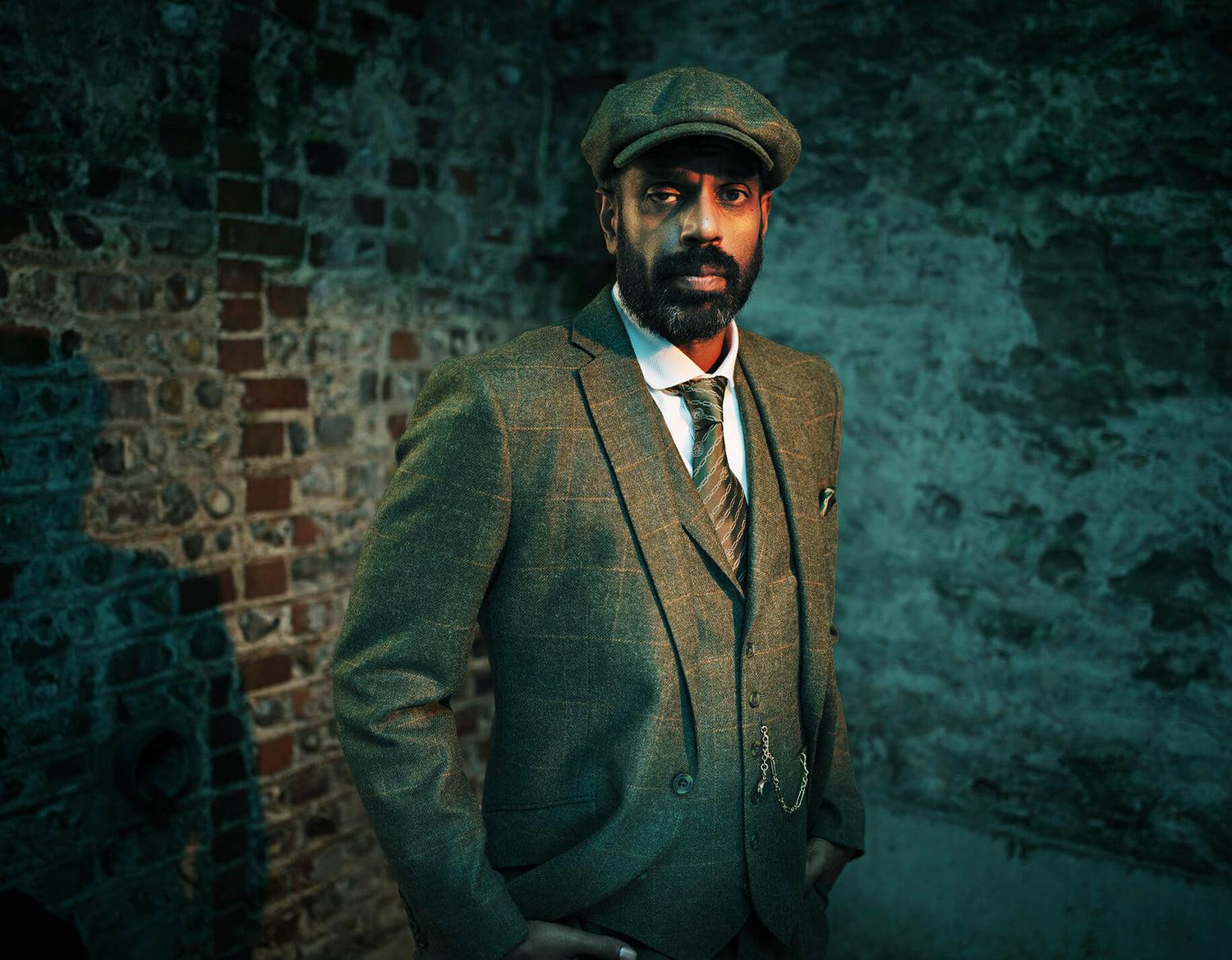 Ranganathan
Bafta TV winner, comedian and actor.
"I love Peaky Blinders and the opportunity to join Gresham Blake's makeshift gang, a designer whose work I think is incredible, was too good an opportunity to miss. Plus, I just wanted to look really cool".
Romesh is wearing 14 oz Green check tweed Peaky Blinders hat available now, the matching 3-piece suit will be available next year.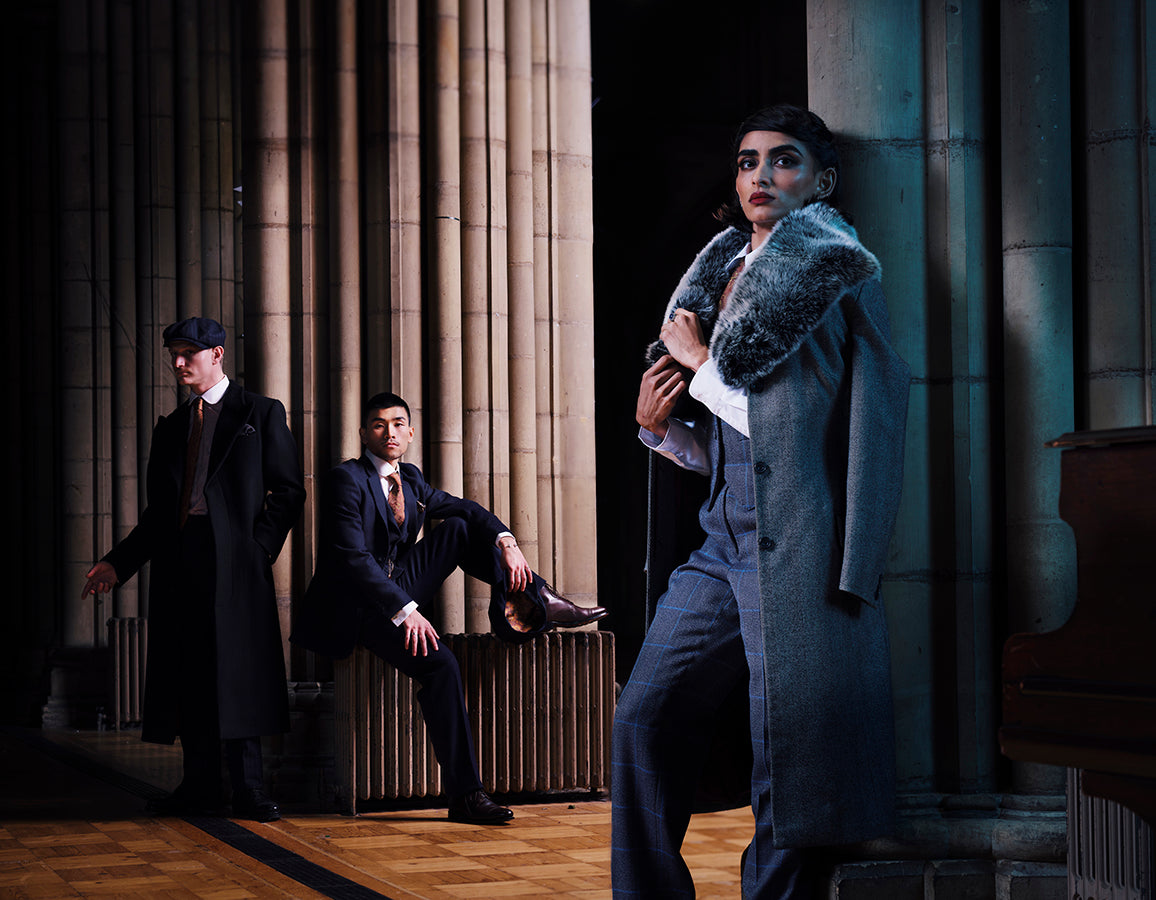 Dancers
Alex Soulliere, Max Day, Aishwarya Raut are dancers with Rambert Dance and part of the brilliant cast of Rambert's Peaky Blinders: the Redemption of Thomas Shelby, an exhilarating performance inspired by the series produced and owned by Caryn Mandabach Productions. Adapted for stage by Peaky Blinders creator Steven Knight and choreographed and directed by Rambert's Artistic Director Benoit Swan Pouffer, the show returns September 2024.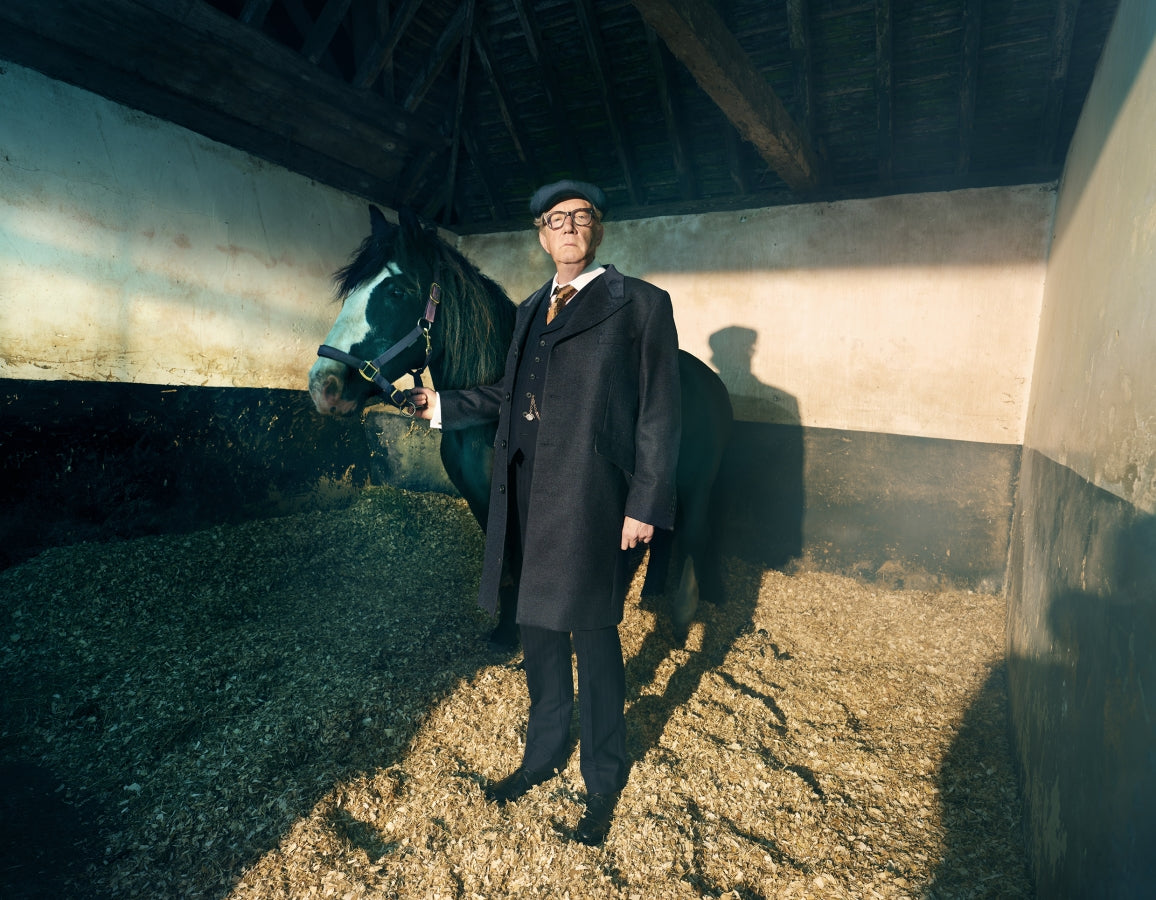 Williams
Known for the Fast Show, Father Brown and of course Mr Weasley from the Harry Potter franchise.
When asked why he likes the show Mark simply said, 'I'm Mark Williams - born in Birmingham".
Mark is wearing 12 oz Blue tweed Peaky Blinders hat available now, and 14 oz Navy tweed check suit with 20 oz overcoat which will be available next year.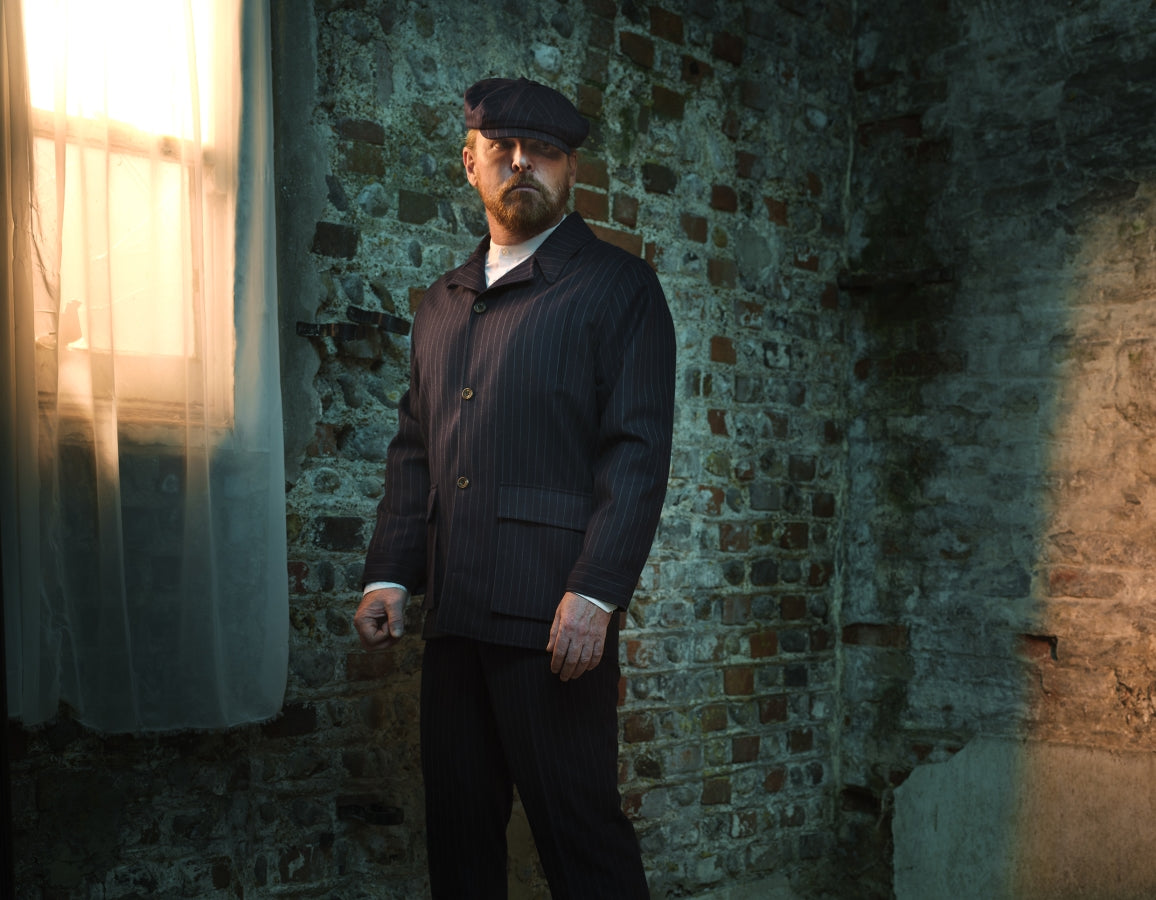 Pitts
Known for playing Sargent Moss in series 1, 2 and 3 of Peaky Blinders.
"In every department from the acting to the writing, made it one of the best jobs in a 42 year career.. superb television".
Pinstripe wool hat available for December delivery,  unlined wool jacket that's a copy of an original Peaky Blinders jacket, will be available 2024.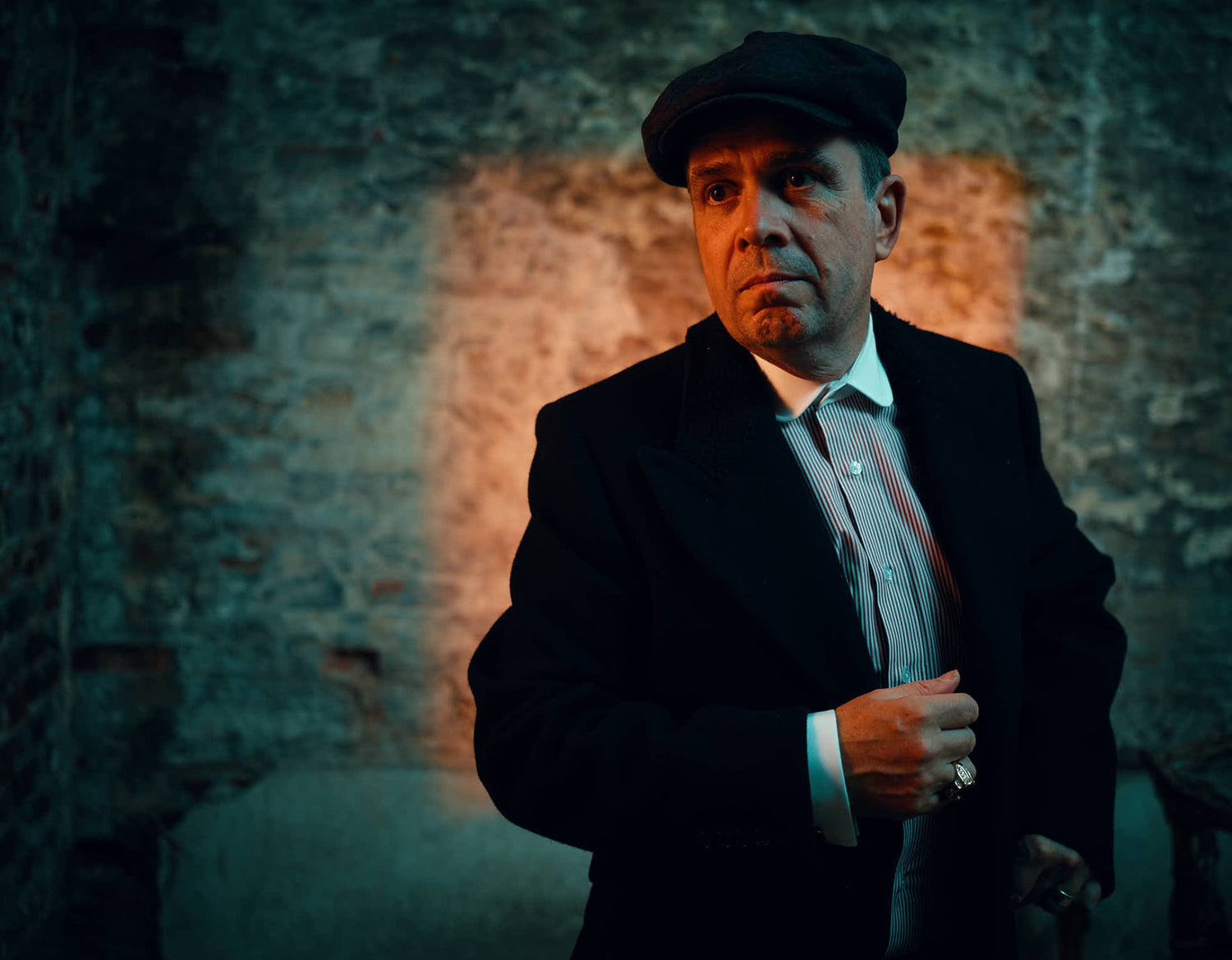 Blake
Since 1999, Gresham set up his design led bespoke tailors and ready to wear ranges from his Brighton and London studios and stores. Making bespoke suits for a wide range of clients, many for film, music and television.
As a long-standing fan of the series, Gresham was inspired by its flawless styling and dazzling fashion. "I admire Peaky Blinders for its impeccable style and attention to detail" says Gresham. "The show's beautiful 1920s fashion and striking imagery were a great source of inspiration when designing the collection, allowing me to create unique, bold, and timeless pieces."
WHO WILL BE THE NEXT PEAKY BLINDER?
"He'll wake up. Granted he won't have any teeth left but he will be a wiser man for it." Alfie Solomons
Peaky Blinders TM © 2013 – 2023 Caryn Mandabach Productions Ltd. Licensed by Banijay Brands.
Photography 'GRESHAM BLAKE ORDER OF THE PEAKY BLINDERS' by Kenny MacCracken @scottishkenny